It's called the VSED option — the refusal to eat or drink. The goal is to hasten death and it's perfectly legal.
By Kevyn Burger
Some patients diagnosed with terminal illnesses or chronic progressive diseases find the prospect of a long decline, great suffering or significant deterioration to be intolerable.
For those with the desire to hasten their own death, one option is to refuse to swallow food or sip liquids. The practice, known as "voluntarily stopping eating and drinking," or VSED, typically results in death within 10 days to two weeks.
"People have been dying this way since time began. It's a natural way of dying, but people should know they can't do this by themselves. They need to be attended by those who are knowledgeable about symptom management who can help them have the least bad death possible," said Judith Schwarz, the clinical director of End of Life Choices New York.
A registered nurse with a Ph.D., Schwarz has written and lectured widely on the practice and advised hundreds of people who have chosen and followed through with the VSED option.
Now she has collaborated with a palliative care doctor, a bioethicist and a law professor specializing in end-of-life issues to co-edit a comprehensive, first-of-its-kind book on the subject.
First-of-Its Kind Book on VSED
Published this month by Oxford University Press, "Voluntarily Stopping Eating and Drinking, A Compassionate, Widely-Available Option for Hastening Death" takes a multi-disciplinary approach to explain both the practical complexities and ethical conundrums of the process to patients, their families and the medical clinicians who care for them.
"People who choose this and are successful are strong willed, they like to be in charge. Those qualities are useful for this process."
Hastening death via VSED is not an impulsive decision. Schwarz describes the people she advises about how to die this way as "well informed and determined," embarking on the process after securing aid from experienced guides.
"They understand that they need family and caregiver support, twenty-four/seven care at the end from people who understand why they made this decision," she said. "They need access to palliative or hospice oversight. Medications must be available to the patient to aggressively treat symptoms of pain."
Co-author and palliative care physician Dr Timothy Quill, of Rochester, N.Y., finds that many of his patients who have pursued VSED shared a personality type.
What a VSED Patient Can Expect
"Of what I call the last-resort options, VSED is the mostly widely available and the least widely described," he said. "People who choose this and are successful are strong willed, they like to be in charge. Those qualities are useful for this process. They are on the sicker end of the spectrum and want an option to speed things up. They are prepared for the end of their life."
The new book offers case studies that detail what a patient who chooses VSED can expect in the dying process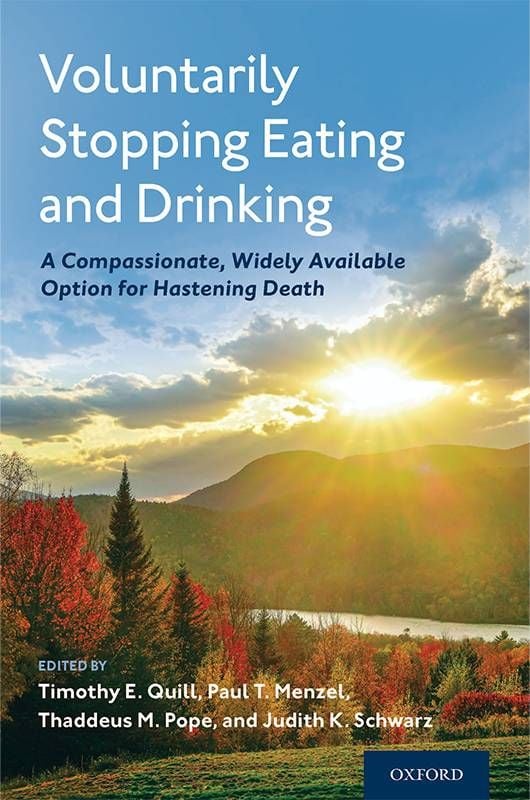 "At first they're up and around and it's a time for family to come together, for saying goodbye. They gradually get weaker, the world starts getting smaller and they become less responsive," said Quill. "As they get dehydrated, their blood pressure drops and that causes organ failure."
After the first day of no food or liquids, hunger tends to ease, but thirst becomes overwhelming. But even the use of ice chips or hourly sips can prolong the process. So, an oral care strategy that includes swishing and spitting, swabbing and using mists that don't rehydrate the patient must be planned.
Schwarz notes that most VSED patients experience agitation, delirium and/or hallucinations in the 24 hours before death.
"Everyone has a period of this, and they need anti-anxiety meds and strong tranquilizers to medically manage symptoms so that the delirium is not intrusive, frightening or awful," said Schwarz. "At this time, family can be present, holding the patient's hand or playing the music they like. I say, 'Don't disturb them, as they are on their journey leaving this world.' I can assure them that their loved one is not suffering. At the end, they stop breathing and their heart stops."
Complete Article ↪HERE↩!